Enterprise Analytics provides in-platform reporting on the organization's usage and spending. By enabling the Organization and Team Admins to view in-depth analytics, this empowers them to make data-driven decisions about allocation, resourcing and ROI.
If you already have access to Enterprise Analytics you can access it in the following ways:
Select this option on the menu bar on the left-hand side of the screen on ADAP:

Go to this link directly by pasting it on the URL bar of the browser: https://client.appen.com/analytics/dashboard
If you'd like to request access to this feature, please contact your Customer Success Manager or Account Executive.
Note: For Dedicated customers, this feature is currently not available On-Premises and only available via the cloud multi-tenant Appen Data Annotation Platform.
Enterprise Analytics consists of four different pages
Overview
User spend report
Job insights
Contributor Stats
Each of these pages presents a different set of information about the team or organization, with a date picker that can customize the timeframe to retrieve information.
Note: the Contributor Stats page is not date-specific, as it contains information for a single job).
Overview
The Overview page covers the following data points:
Contributor Spend
Activity Level
Rows Finalized
Judgments Collected
Contributor Spend
The contributor spends section shows the total amount an Organization or Team has paid contributors for working on its jobs over the given timeframe along with a line chart to show historical trends.
Organization Admins have the ability to break this down by teams within their organization, or by projects the jobs are associated with.
Team admin will only see this information for their own team, so the amount automatically broken down by the project. In addition to the breakdown, there is also a line chart to show historical trends.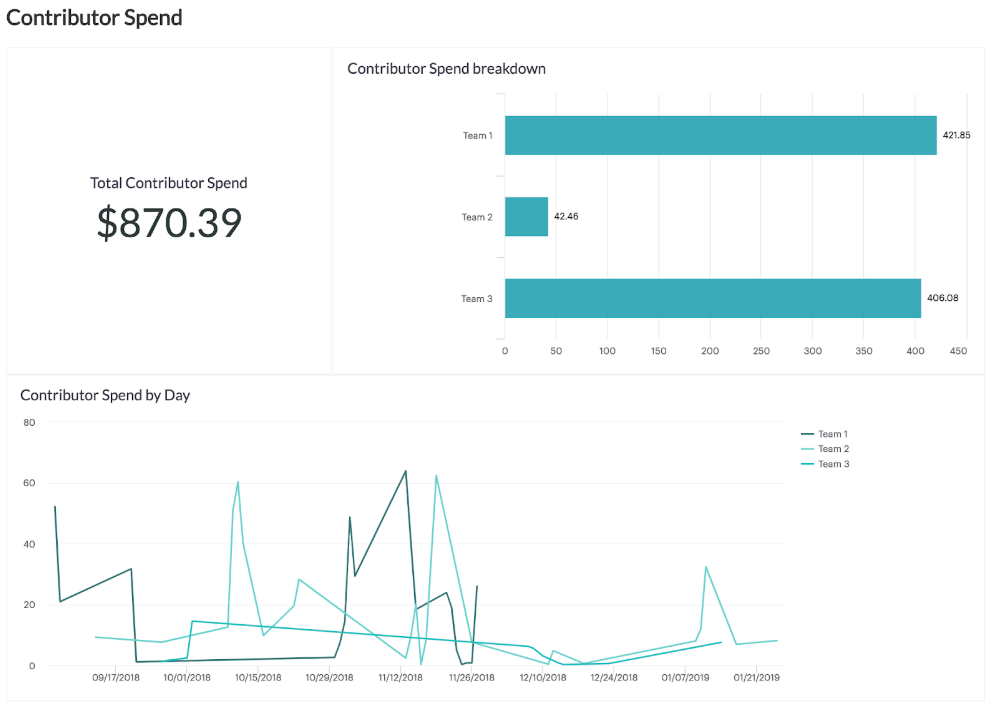 Fig 1. Contributor Spend Page
Activity Level - Active Jobs
The Rows Finalized section shows how many rows were finalized in the given timeframe

Note: A row is finalized when it has collected the requested number of trusted judgments
Activity Level - Judgments collected
The Judgments collected section shows how many judgments were submitted by contributors across all jobs and does not include test question judgments.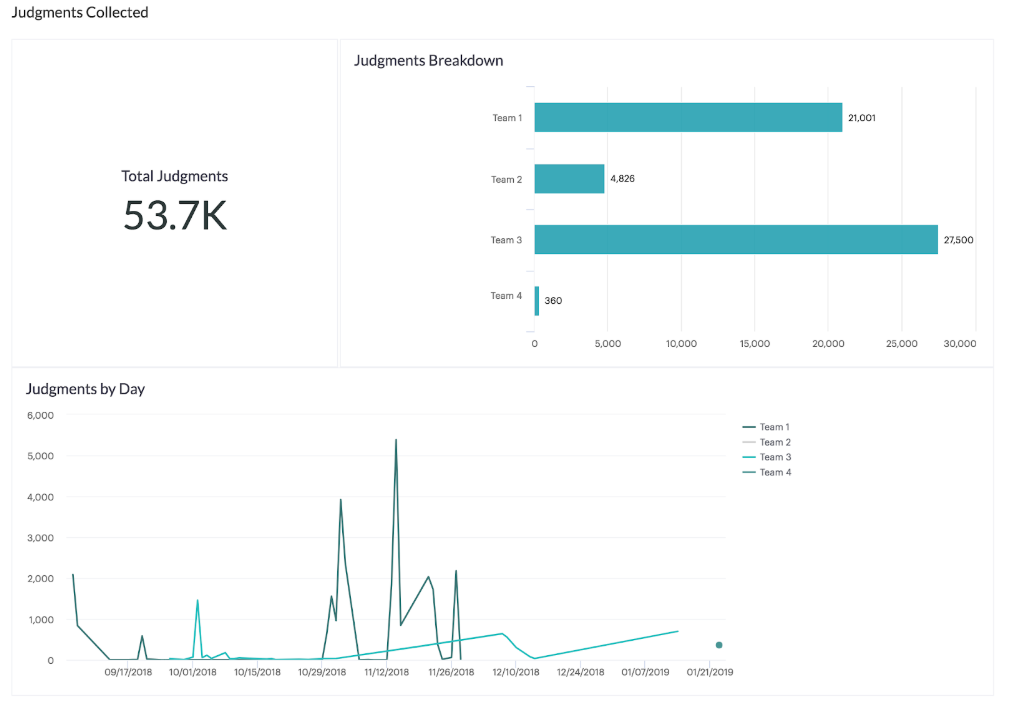 Fig 2. Judgments Collected Page
User Spend Report
The User Spend Report covers how much team members have paid contributors over the given timeframe, along with their total lifetime spend

Note: if a user has not spent any money on jobs over the given timeframe, they won't appear in the report even if they have a lifetime spend amount.

Fig 3. User Spend Report page
Job Insights
The Job Insights page provides a detailed breakdown of each job run over the chosen timeframe. It contains the following information per job:
Title: this is the title of your job
Job Owner: this is the email of the user who owns the job
Cost Over Period: this is the amount

paid to contributors over the given timeframe

Status: Current state of the job
Team

: if you are a Team Admin, this will be the same for all jobs

Project: the project in which the job is attached to
Tags: A list of tags that were added to the job
Total Cost

: this is the total amount paid to contributors for the job over all time

First Order: the date of the first order placed on the job (when the first set of rows was launched)
Last Order: the date of the last order placed on the job. In jobs that have only one order, this will be the same as first order.
Cost Per Row

: this is the actual amount paid per finalized row, including costs for tainted judgments and test questions

Total Rows

: the number of rows uploaded to the job

Launched Over Period

and

Total Launched Rows

: the number of rows ordered over the given timeframe and the total number of rows ordered in the job for all time, respectively

Finalized Rows Over Period

and

Total Finalized Rows

: the number of rows finalized over the given timeframe, then the total number of rows finalized for all time, respectively

Total Judgments Over Period

: the total number of judgments over the given timeframe, including untrusted judgments, but not including test question judgments

Trusted Judgments Over Period

: the number of trusted judgments over the given timeframe, not including test question judgments

Untrusted Judgments Over Period

: the number of untrusted judgments over the given timeframe, not including test question judgments

Total Judgments

,

Total Trusted Judgments

, and

Total Untrusted Judgments

: the total number of each type of judgment for the job for all time

Fig 4. Job Insight page
Contributor Stats
The Contributor Stats page on the job dashboard provides a detailed view of how contributors are performing in the job and the work they're doing. The information provided is as follows:
Trusted Judgments: The total number of trusted judgments on non-test question rows

Average Trust Score: The average test question accuracy of contributors in the job

Total Hours Active: The cumulative amount of time contributors have spent working on the job. This is not just the amount of time the job has been running.

Seconds per Trusted Judgment: This is the average time in seconds it takes contributors to judge a row of data.

Contributor ID and Channel: The contributor's account ID and the channel they're working through

Earning: How much money is in USD the contributor has earned working in the job

Total Judgments: The number of judgments the contributor has submitted, excluding test questions

Hours Active: The amount of time the contributor has spent working in the job

Time per Judgment: the average time the contributor has taken to judge a row (in hours)

TQ Accuracy: The contributor's test question accuracy in the job

TQs seen: The number of test questions the contributor has judged

Missed TQs: The number of test questions the contributor has answered incorrectly

Forgiven Count: THe number of missed test questions the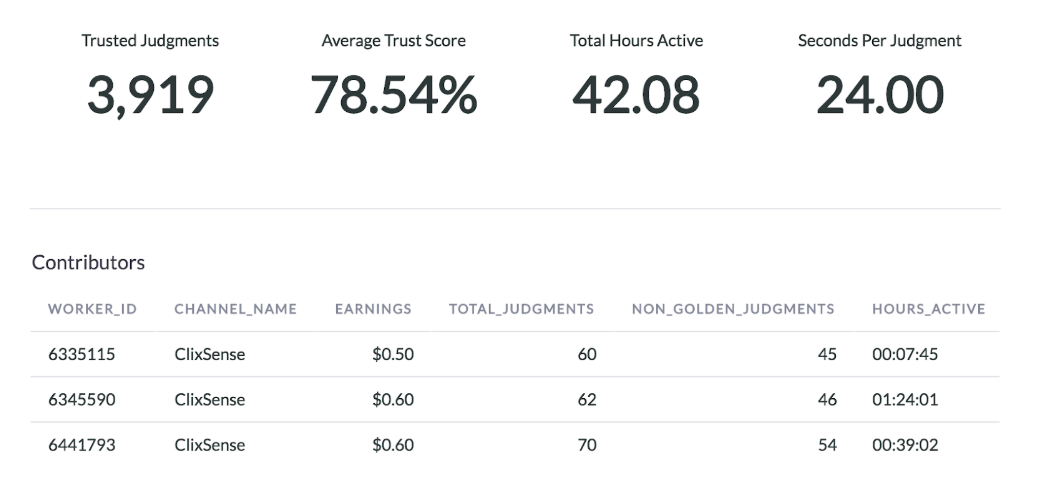 Fig 5. Contributor Stats Page