Archived Jobs
Finished jobs that have not been modified for 90 days will be automatically archived. However, these archived jobs will still be visible in your Jobs list and will be indicated with folder icon.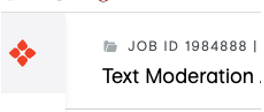 Jobs that have been archived can be restored in a variety of ways, including via API (see Developer Documentation for information on restoring via API). Please note that Jobs cannot be manually Archived.
Archived jobs can be copied just like all other jobs.
---
Restoring Archived Jobs
There are multiple ways to restore jobs that have been archived due to inactivity.
Follow these instructions to restore your jobs.
---
Restore from your Jobs list
Go to your jobs list.
Select your Archived job and choose 'Restore Job' from the options menu.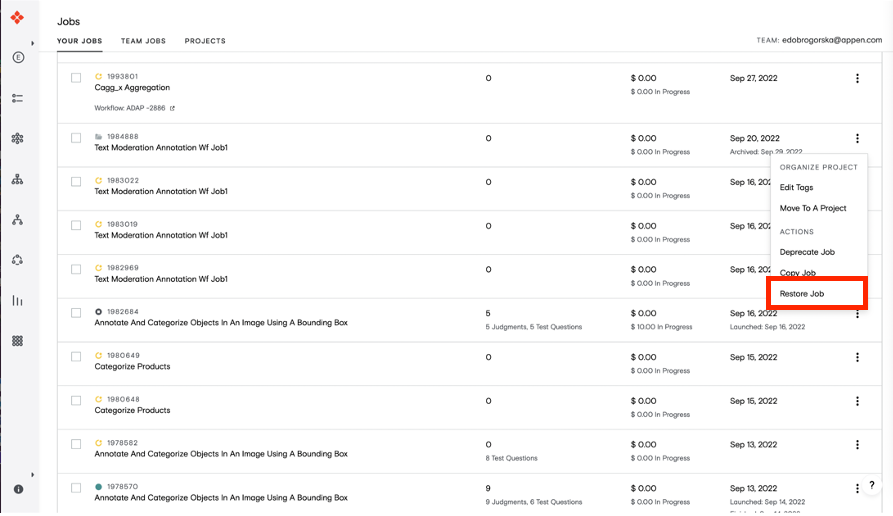 Figure 1: Jobs list view
Restore during search
If you happen to search for a job that has already been archived, you will see a dialog box popup. Select 'Yes' to restore the job.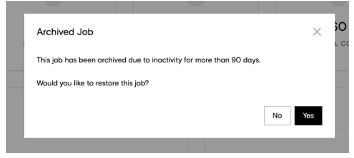 Figure 2: Archived job notification
Restore from inside the job
If you open a job that has been archived, you will notice that the Data, Design & Launch tabs will be greyed out.
When you hover over the Launch tab, a dialog box will appear notifying you that the job was archived.
Choose Restore

to restore your job.