This article describes the Settings for your Test Questions. Test Questions (aka Test Question Data) are a powerful method for measuring the quality of the contributors in your job. By providing the answers to a small percentage of units, you can tell how accurate someone is and automatically remove anyone who doesn't meet your requirements.
To access Test Question Settings, select "Settings", then select "Test Questions" from the "Quality Control" drop-down tab.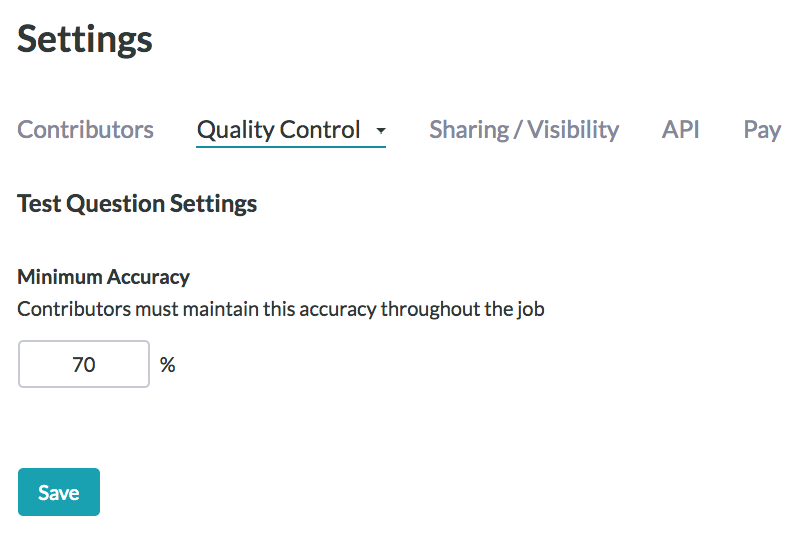 Fig. 1: Test Question Settings page
Minimum Accuracy
This percentage is the minimum accuracy a contributor must maintain during the job to continue working. If the contributor falls below this accuracy at any time, he or she will be removed from the job and all of his or her answers will be disregarded, or untrusted. If Quiz Mode is enabled, this is the minimum accuracy percentage (Trust Score) a contributor must achieve to pass Quiz Mode and enter the job.
Configurable Test Questions
This section enables configuring the number of test questions that appear in Quiz Mode as well as how frequently they appear in Work Mode.
By default, Quiz Mode is the same length as the number of Rows Per Page (or assignment length); however, when this setting is enabled, the length can be shorter or longer than an assignment.
In terms of Work Mode, the default test question frequency is 1 per page. You can configure the frequency to be X test questions per X pages. A contributor will not be able to continue working when they've ran out of test questions.
Note: these settings cannot be changed once the job has been launched.