The "Delete" option on the job listings page permanently deletes jobs. This action is not reversible, so please use this option with caution.
Points to remember
"Running", "Launching" or "Paused" Jobs can not be deleted. Jobs in any other state can be deleted.
Jobs that are part of a Workflow cannot be deleted.
Only the job creator and/or the Admin of the Team can delete a Job.
A deleted job cannot be searched for once deleted.
Instructions
To access "Delete" click on the menu button on the jobs listing page and select the "Delete" option.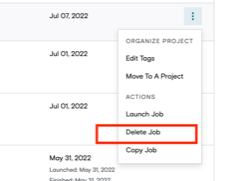 Fig.1 Delete Job
A prompt will open confirming your intention. You will be directed to re-enter the Job ID of the job you want to delete as an acceptance of conditions and understanding that the action is irreversible.
Make sure the typed-in Job ID matches the Job ID given in the prompt and click "I understand the conditions, delete this job" button.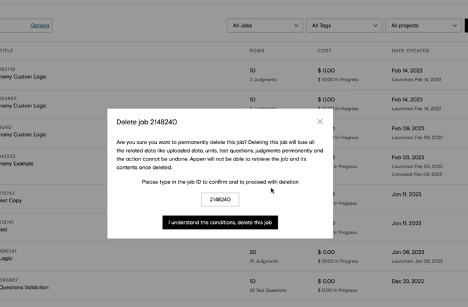 Fig. 2 Conditions prompt
A message will appear confirming the deletion.

Fig. 3 Confirmation message
You will receive a confirmation email when deletion process is completed when "Delete" feature is accessed both from UI & API.